STRATEGIC IMPLEMENTATION


EASILY ACHIEVE YOUR
BUSINESS OBJECTIVES


FLEXIBLE 24X7
SERVICE OPTIONS
Telephone: 678.537.6840, Select Option 2 for Support Dept.




A Veteran Owned Small Business

Copyright © ProServiceIT, LLC. All other company and product names are trademarks or registered trademarks of their respective companies.
ProServiceIT, LLC.
PO Box 769090
Roswell, GA 30076
Phone: 678.537.6840
Email: sales@proserviceit.com
ProServiceIT is a Veteran Owned Small Business and independent service provider. Our "vendor independence" means you get the right solution, tailored to your individual business requirements. Email us or call a sales associate at 678.537.6840 for additional details on our customized services and savings.


The TAM is the primary contact assigned for the delivery of services defined in your individual support program and/or service agreement. This individual has the overall responsibility for the successful implementation and delivery of your IT support services. Engaged early in the Planning Phase, the TAM develops and sets your service project execution expectations.
This individual works to resolve issues that arise and has the following responsibilities:
Is the single point of contact for all of your service activity

Defines and documents your service requirements

Establishes project success criteria with the customer

Develops and maintains your Project Plan, Communication Plan and Risk Management Plan

Creates a detailed work break down structure of tasks to be performed

Develops and executes the change control process

Leads and directs project activities and resources

Manages and coordinates the support resources, schedules support resource shifts, and prioritizes and controls support resource's daily activities

Works with your other dept. representatives to resolve any issues

Prepares and conducts formal meetings to discuss the status, schedules, milestones, issues, and any forthcoming activities

Responsible for daily operations management including but not limited to service performance monitoring, root cause analysis and corrective actions

Resolves problems, exceptions and changes in management

Regularly communicates with the customer and suppliers/partners
In addition to the TAM, a variety of other support personnel may be assigned to a specific account based on volumes and service levels, to include project management, customer care, and technical support coordinators.
TECHNICAL ACCOUNT MANAGER (TAM)

PROSERVICEIT IS A TRUSTED SUPPORT RESOURCE FOR YOUR MULTI-VENDOR
NETWORK ENVIRONMENT
Interested in obtaining a free quote or service needs analysis? Give us a call at 678.537.6840, and select Option 1, or send us a quick email at sales@proserviceit.com. We're here to help.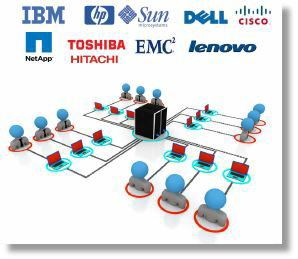 FREE QUOTE OR NEEDS ANALYSIS