STRATEGIC IMPLEMENTATION


EASILY ACHIEVE YOUR
BUSINESS OBJECTIVES


FLEXIBLE 24X7
SERVICE OPTIONS
Telephone: 678.537.6840, Select Option 2 for Support Dept.




A Veteran Owned Small Business

Copyright © ProServiceIT, LLC. All other company and product names are trademarks or registered trademarks of their respective companies.
ProServiceIT, LLC.
PO Box 769090
Roswell, GA 30076
Phone: 678.537.6840
Email: sales@proserviceit.com
ProServiceIT is a Veteran Owned Small Business and independent service provider. Our "vendor independence" means you get the right solution, tailored to your individual business requirements. Email us or call a sales associate at 678.537.6840 for additional details on our customized services and savings.


ProServiceIT offers End-of-Life (EOL) Hardware Maintenance Agreements on OEM discontinued products. This program allows us to offer our clients continued service and support on older, obsolete IT equipment that would otherwise have to be replaced at a far greater expense.

Benefits of an EOL Services Agreement include:
Provides ongoing support for customers that do not have the ability to upgrade

Assures customers receive better than OEM service and support

Allows customers to save resources, time and money by not having to find another product to meet their business needs
Whether you are looking to supplement your internal repair staff or you want someone to fully manage the repair function, ProServiceIT has the experience, parts availability, and nationwide network of qualified technicians to help meet your business needs.
Please contact us to discuss how we can work together to develop a customized support program. We can quickly turn around a quote for you that includes our standard 8x5, next business day parts and onsite services. As an alternative, we also offer 24x7 services with a 4-hour onsite response. We will work diligently to understand your unique business requirements and create a practical solution that exceeds your expectations.
OEM END -OF-LIFE IT EQUIPMENT SUPPORT

PROSERVICEIT IS A TRUSTED SUPPORT RESOURCE FOR YOUR MULTI-VENDOR
NETWORK ENVIRONMENT
Interested in obtaining a free quote or service needs analysis? Give us a call at 678.537.6840, and select Option 1, or send us a quick email at sales@proserviceit.com. We're here to help.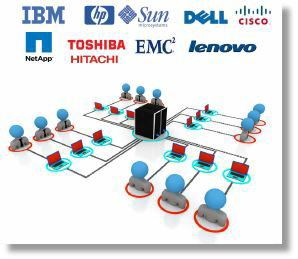 FREE QUOTE OR NEEDS ANALYSIS