STRATEGIC IMPLEMENTATION


EASILY ACHIEVE YOUR
BUSINESS OBJECTIVES


FLEXIBLE 24X7
SERVICE OPTIONS
Telephone: 678.537.6840, Select Option 2 for Support Dept.




A Veteran Owned Small Business

Copyright © ProServiceIT, LLC. All other company and product names are trademarks or registered trademarks of their respective companies.
ProServiceIT, LLC.
PO Box 769090
Roswell, GA 30076
Phone: 678.537.6840
Email: sales@proserviceit.com
ProServiceIT is a Veteran Owned Small Business and independent service provider. Our "vendor independence" means you get the right solution, tailored to your individual business requirements. Email us or call a sales associate at 678.537.6840 for additional details on our customized services and savings.

With The Right People on Your Team, You Can Improve Efficiencies, While Reducing Costs with ProServiceIT's Staffing Services


Are you looking to supplement your existing infrastructure support, or do you have a special project need? ProServiceIT offers a wide range of contracted IT staffing services for your specific business requirements.
Outsourcing IT services is an effective tactic and allows your business to concentrate on its core competencies without dramatically increasing overhead. We deliver expertise related to the latest trends and resources in information technology, while reducing the need for in-house positions.
Our IT staffing services can assist you with the following:
Business Continuity Solutions

Onsite Technical Services

Remote Management

Help Desk Support

Installs and Upgrade Project Implementation
Often times it can be a challenge for businesses to find and retain truly qualified information technology experts and/or highly trained support staff. We will work with you to define the necessary skill sets and provide the right resources to fill all of your business requirements. Utilizing ProServiceIT, your business can bridge the gap between your goals and your IT capabilities.
For more information, contact your sales associate today at 678.537.6840, Option 1 or email sales@proserviceit.com.

PROSERVICEIT IS A TRUSTED SUPPORT RESOURCE FOR YOUR MULTI-VENDOR
NETWORK ENVIRONMENT
Interested in obtaining a free quote or service needs analysis? Give us a call at 678.537.6840, and select Option 1, or send us a quick email at sales@proserviceit.com. We're here to help.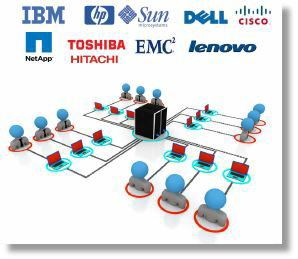 ProServiceIT continually invests in its people, processes, and infrastructure to support the diverse needs of out clients. Our services are based on time proven techniques that bring significant value to our customers.
DEDICATED TO DELIVERING QUALITY INFORMATION TECHNOLOGY SERVICES

FREE QUOTE OR NEEDS ANALYSIS