STRATEGIC IMPLEMENTATION


EASILY ACHIEVE YOUR
BUSINESS OBJECTIVES


FLEXIBLE 24X7
SERVICE OPTIONS
Telephone: 678.537.6840, Select Option 2 for Support Dept.




A Veteran Owned Small Business

Copyright © ProServiceIT, LLC. All other company and product names are trademarks or registered trademarks of their respective companies.
ProServiceIT, LLC.
PO Box 769090
Roswell, GA 30076
Phone: 678.537.6840
Email: sales@proserviceit.com
ProServiceIT is a Veteran Owned Small Business and independent service provider. Our "vendor independence" means you get the right solution, tailored to your individual business requirements. Email us or call a sales associate at 678.537.6840 for additional details on our customized services and savings.

DEVELOPING NEW PROCESSES WITHIN YOUR BUSINESS
The technology demands facing your business intensify more every day. Businesses increasingly rely on their networks to move data, provide communication, and enable basic operations. ProServiceIT's staff of highly trained help desk professionals are ready to address your unique business requirements with dependable execution and ongoing remote support.
Utilizing our network of trusted service partners, ProServiceIT can offer your business a comprehensive range of network monitoring and performance management solutions. Our remote network monitoring capabilities are ideal for a distributed network with important devices spread across a variety of locations. We can keep watch over a client's network, so the client doesn't have to in order to keep the business running smoothly and cost effectively.
Several different aspects of a network can be monitored remotely. Not only can we detect system failures when they occur, but we can also keep track of long term changes in network performance and network usage. Continuous network and server monitoring enables us to find problems and resolve them before they become a serious threat to the business. Plus, we have the added benefit of being able to provide our clients with experienced onsite field engineers to resolve any problems that can't be fixed remotely. Our onsite field engineers will also have the requisite knowledge of your network environment that is reported to be having a problem and can therefore deliver more fast and effective resolutions while onsite.
Fast Problem Resolutions
As networks and computer technology become more integrated with business, system outages can seriously impact the bottom line. Remote access generates quick ROI by expending the process of troubleshooting and diagnostics without the need to visit remote sites. If your network or website is offline the company does not make money. Our aim is to get the systems up and running as fast as possible, causing minimum disruption to critical business functions. This is achieved through a careful diagnosis either over the phone or through remote access and then following up with the correct combination of skilled engineers, parts or equipment onsite.
REMOTE MONITORING SERVICES

PROSERVICEIT IS A TRUSTED SUPPORT RESOURCE FOR YOUR MULTI-VENDOR
NETWORK ENVIRONMENT
Interested in obtaining a free quote or service needs analysis? Give us a call at 678.537.6840, and select Option 1, or send us a quick email at sales@proserviceit.com. We're here to help.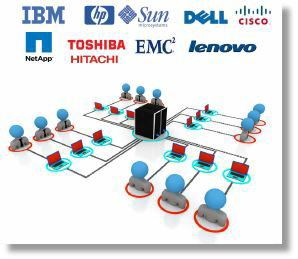 ProServiceIT continually invests in its people, processes, and infrastructure to support the diverse needs of out clients. Our services are based on time proven techniques that bring significant value to our customers.
DEDICATED TO DELIVERING QUALITY INFORMATION TECHNOLOGY SERVICES

FREE QUOTE OR NEEDS ANALYSIS