STRATEGIC IMPLEMENTATION


EASILY ACHIEVE YOUR
BUSINESS OBJECTIVES


FLEXIBLE 24X7
SERVICE OPTIONS
Telephone: 678.537.6840, Select Option 2 for Support Dept.




A Veteran Owned Small Business

Copyright © ProServiceIT, LLC. All other company and product names are trademarks or registered trademarks of their respective companies.
ProServiceIT, LLC.
PO Box 769090
Roswell, GA 30076
Phone: 678.537.6840
Email: sales@proserviceit.com
ProServiceIT is a Veteran Owned Small Business and independent service provider. Our "vendor independence" means you get the right solution, tailored to your individual business requirements. Email us or call a sales associate at 678.537.6840 for additional details on our customized services and savings.

THE PERFECT SOLUTION THAT GIVES YOU PEACE OF MIND AND REDUCES COSTS BY UP TO 30%
Our managed printer service partners can help you drastically reduce costs and are designed to take full responsibility for the management of your entire printing infrastructure, from copying and scanning, to printing and faxing.
Managed Print Services (MPS) is a mix of software tools, services and custom solutions and strategies that have the power to transform your organization but are sometimes disregarded. However, recently more and more businesses are looking to save money where they can. Implementing our managed print services can have a dramatic impact in your company's bottom line by improving overall print efficiency and then going beyond to deliver incremental savings and business process improvements.
Highly trained managed print service experts can proactively monitor your devices to predict and resolve potential issues and provide your business the following benefits:
• Lessen the printer support burden
• Streamline vendor management - Single Source Provider
• Have a higher employee to machine ratio
• Decrease energy usage
• Predict costs
• Reduced expenses
Our service agreements can include everything from print lifecycle management including the supply of consumables, to comprehensive onsite hardware maintenance.
To learn more about these services, contact us today to speak with one of our expert consultants. We can help you better understand the overall costs of your print environment by performing a print audit. From there, we will develop a strategy targeted at optimizing your print infrastructure and reducing your overall costs.
PRINT MANAGEMENT SERVICES

PROSERVICEIT IS A TRUSTED SUPPORT RESOURCE FOR YOUR MULTI-VENDOR
NETWORK ENVIRONMENT
Interested in obtaining a free quote or service needs analysis? Give us a call at 678.537.6840, and select Option 1, or send us a quick email at sales@proserviceit.com. We're here to help.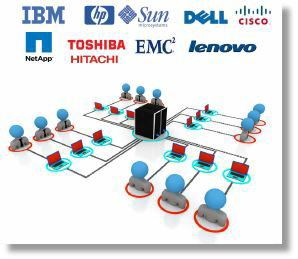 ProServiceIT continually invests in its people, processes, and infrastructure to support the diverse needs of out clients. Our services are based on time proven techniques that bring significant value to our customers.
DEDICATED TO DELIVERING QUALITY INFORMATION TECHNOLOGY SERVICES

FREE QUOTE OR NEEDS ANALYSIS