STRATEGIC IMPLEMENTATION


EASILY ACHIEVE YOUR
BUSINESS OBJECTIVES


FLEXIBLE 24X7
SERVICE OPTIONS
Telephone: 678.537.6840, Select Option 2 for Support Dept.




A Veteran Owned Small Business

Copyright © ProServiceIT, LLC. All other company and product names are trademarks or registered trademarks of their respective companies.
ProServiceIT, LLC.
PO Box 769090
Roswell, GA 30076
Phone: 678.537.6840
Email: sales@proserviceit.com
ProServiceIT is a Veteran Owned Small Business and independent service provider. Our "vendor independence" means you get the right solution, tailored to your individual business requirements. Email us or call a sales associate at 678.537.6840 for additional details on our customized services and savings.


Reduce service and support costs while improving customer service with ProServiceIT's Multi-Vendor Midrange System Support
At the core of every business is its IT infrastructure. Server management and support poses numerous challenges for businesses. ProServiceIT responds quickly, delivering a flexible array of service programs that can be customized to meet the needs of any business.
Our program levels range from next business day, to 24X7 with a 4-hour onsite response. Support services are available for IBM®, Sun Solaris®, and HP® midrange servers.
With a vast and growing network of qualified service technicians nationwide, we have the knowledge base and resources to provide unsurpassed hardware maintenance services. Plus, your assigned Technical Account Manager (TAM) will manage each service incident from inception to total resolution.
Midrange System Support Features:
Expert Help Desk Support

Assigned Technical Account Manager (TAM)

Overnight Parts Replacement

Optional Onsite Spare Parts Kits or Forward Stocking Location (recommended for a 4-hour SLA)

Guaranteed 1 Hour Response Time (goal is 30 minutes)

Pro-Active Services

Customized Service Programs

Optional 24X7 Remote Server Monitoring Services
Implementing a ProServiceIT mid-range system support agreement can reduce costs, improve scalability, and decrease down-time. Regardless of the size of your organization, there's a midrange solution that's right for you. Small to medium-sized businesses can implement a highly reliable, cost-effective solution that yields the power of enterprise computing at a fraction of the OEM direct cost.
MID-RANGE SYSTEM SUPPORT

PROSERVICEIT IS A TRUSTED SUPPORT RESOURCE FOR YOUR MULTI-VENDOR
NETWORK ENVIRONMENT
Interested in obtaining a free quote or service needs analysis? Give us a call at 678.537.6840, and select Option 1, or send us a quick email at sales@proserviceit.com. We're here to help.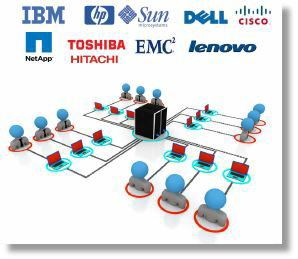 FREE QUOTE OR NEEDS ANALYSIS